Show: Phineas and Ferb
Gender: Male
Age: 49
Nationality: Doofelsteinian
Hair Color: Brown
Favorite food: Doonkelberry cake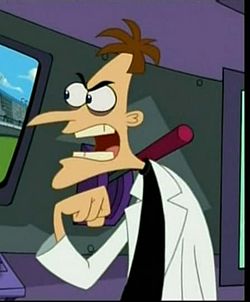 Background
Dr. Heinz Doofenshmirtz is a mad scientist who heads his own corporation, Doofenshmirtz Evil Incorporated. He takes pleasure in attempting to wreak havoc on citizens of the Tri-State Area. With the exception of one episode, Heinz always has unusual contraptions on-hand. Also in every episode, his nemesis Perry the Platypus, foils his plans. It is unknown if Heinz knows the Flynn-Fletchers personally but his other family members have met them.
Instead of being truly evil, Heinz is rather overly-dramatic and eccentric. He occasionally acts like a normal guy (being mildly nice, especially to his daughter). His bitter attitude was the result of a miserable childhood as seen in flashbacks spanning several episodes. Although, is it not explained why he does misdeeds in Danville rather than his native country. Heinz is a multi-billionaire, thanks in part to the monthly alimony payments he receives from his ex-wife. He has a tendency to add the "-inator" suffix to all of his nefarious contraptions with the exception of the "Shrinkspheria" in Mom's Birthday and "Termite Controlling Helmet" in the episode The Magnificent Few.
His father cruelly forced him to spend his childhood dressed as a lawn gnome whilst other children played. Despite inviting other children to his birthday parties, no one attended, and his birthday cakes were always eaten by Doonkelberry Bats. Heinz's own parents didn't even show up on the day he was born. Heinz was unable to grow facial hair during his teenage years, and still seems unable to as an adult. Heinz was also, in is father's heart, replaced by a dog his father won in a contest. His father named the dog 'Only Son' because he claimed that it was like his only son (unlike Doofenshmirtz) and was a spitzen hound.